The next morning was a little cloudy, a little drizzly ... We breakfasted at the Silky Oaks restaurant ... Food was fine ... The view from the table of the open air restaurant was fantastic .. Looking across a deep hole in the local stream and seeing fish in the water and some small birds flitting about in the trees beside us was a great way to start the day ... After breakfast (no cameras - Typical) We walked down to the stream for a close up of the fish that came up through crystal clear water to great us ... "look a turtle !!" notes Jill and sure enough a medium sized turtle came out of the depths and had a quick look at us before returning back into the depths of the pool ......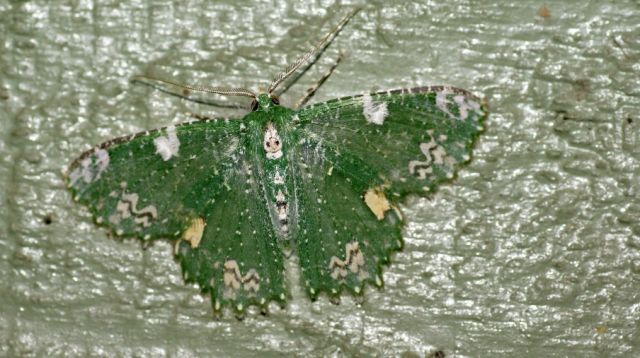 Back at the unit we settled down with a cuppa. The local tea (Daintree tea) and discussed what we should do for the day ... Sunday, and potentially a busy day if all the locals are out as well ....

Jill being ever alert, spotted an unusual bird right at the top of the trees we could see.......It turned out to be a Southern Pacific Baza!! A medium sized bird of prey .....We spent some time faffing around trying to get shots ...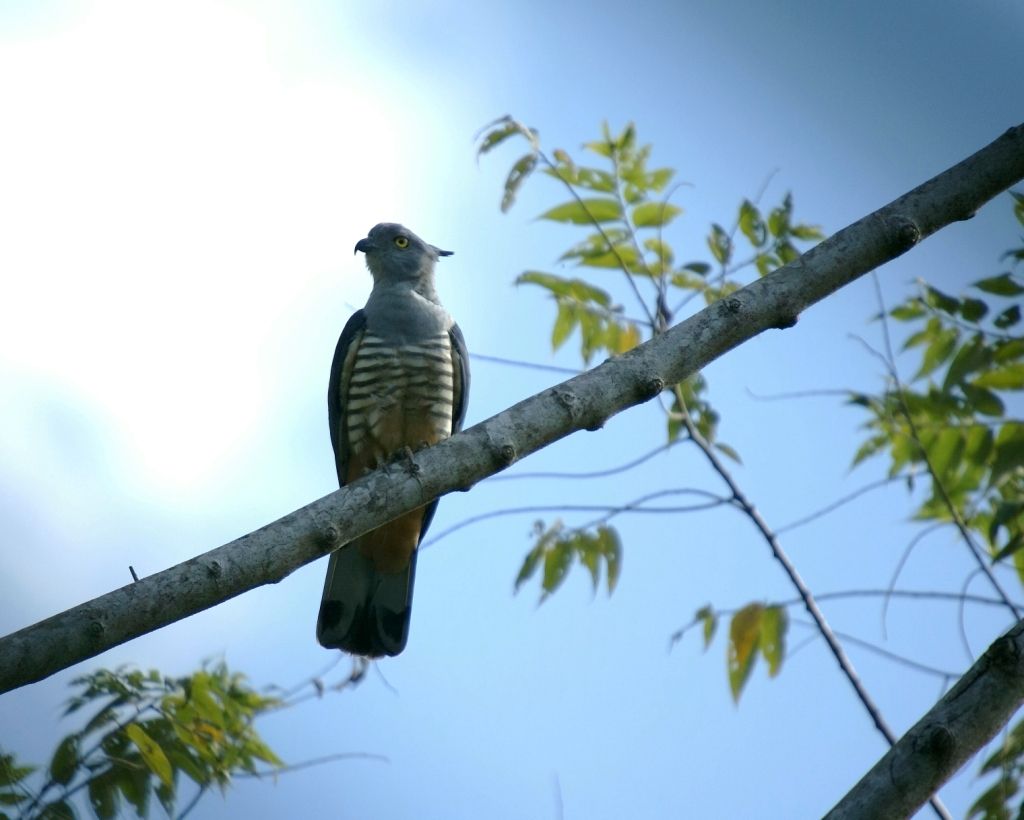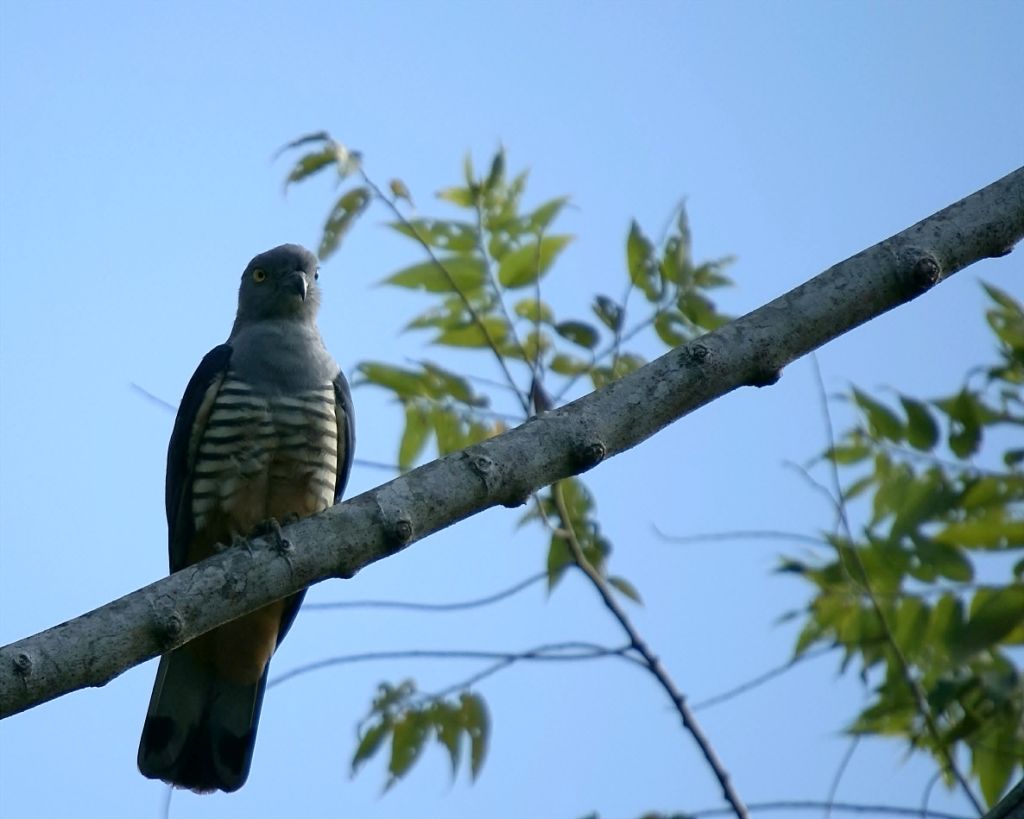 A pretty bird I thought .....

Right, Port Douglas it is ....And off we set ... Jill driving, I played at taking shots from a moving car .............

Working on the Sugar Cane fields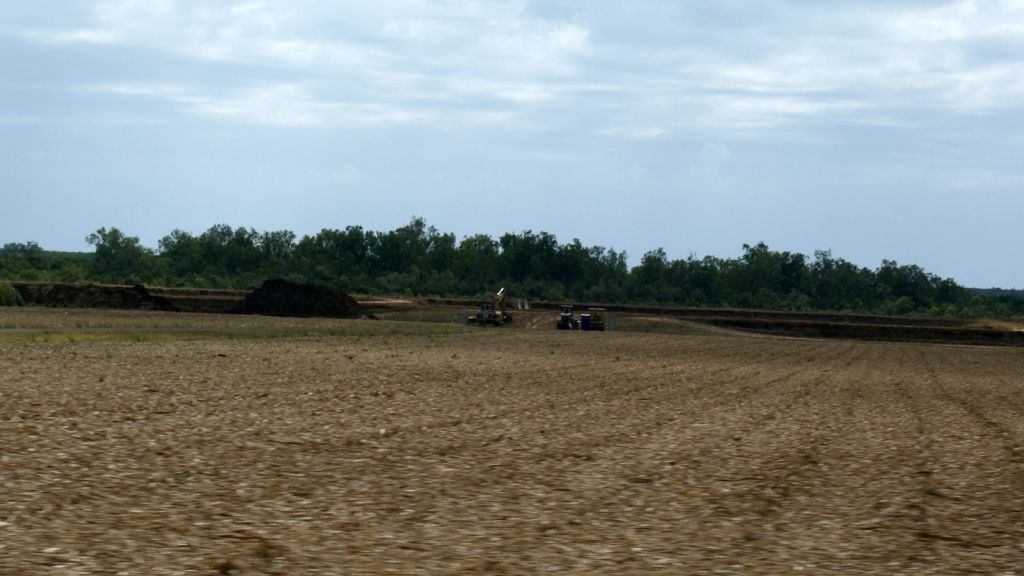 Sugar cane trains all over the place and often crossing main roads




We arrived at the outskirts of Port Douglas and drove past endless resorts and hotels ... All very classy looking establishments .... Then the township - very bright and modern the streets lined with already well patronaged restaurants.. >And then we came across the small yachting marina ...Beside the marina more restaurants.. This was the view we took in while sipping orange juice and coffee...




We saw signs for 3 things. One was this train that did a circular route around some of the resorts and back to the marina.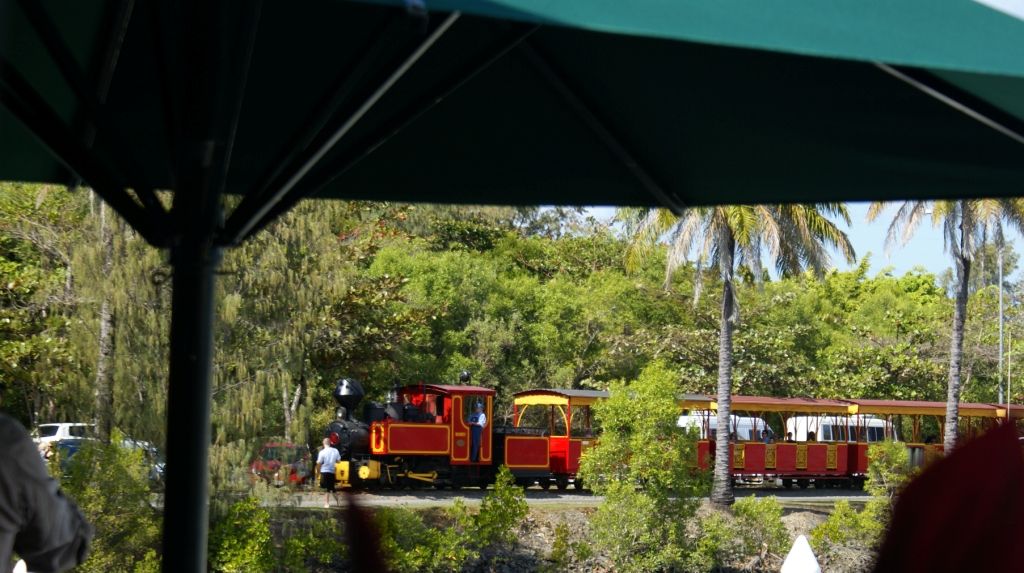 The 2nd sign was for the Sunday market!! Well you just have to do the markets don't you :O)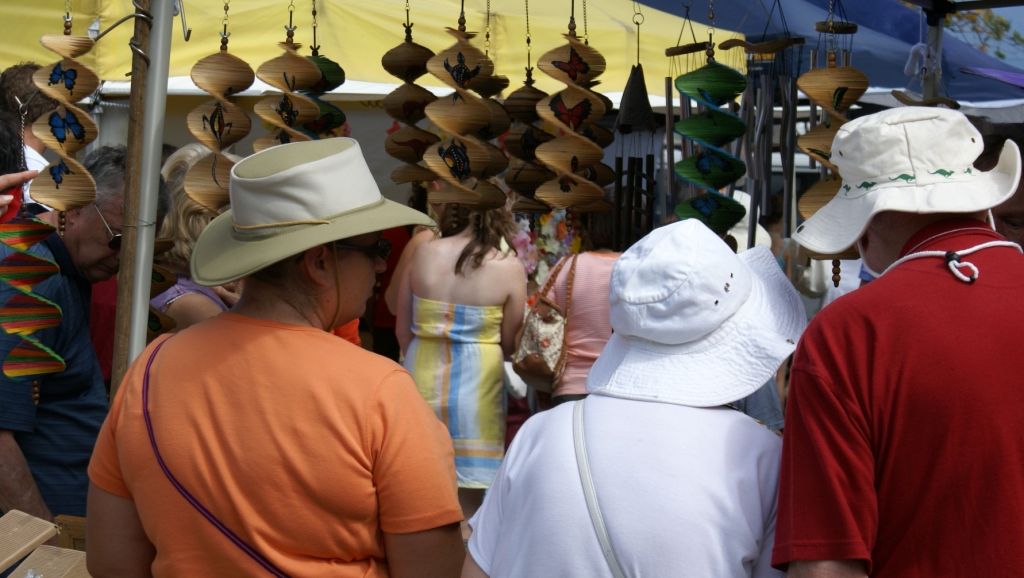 Beautiful looking fruit and vegetables ... mostly what we can buy at home these days but there were a few unusual ones as well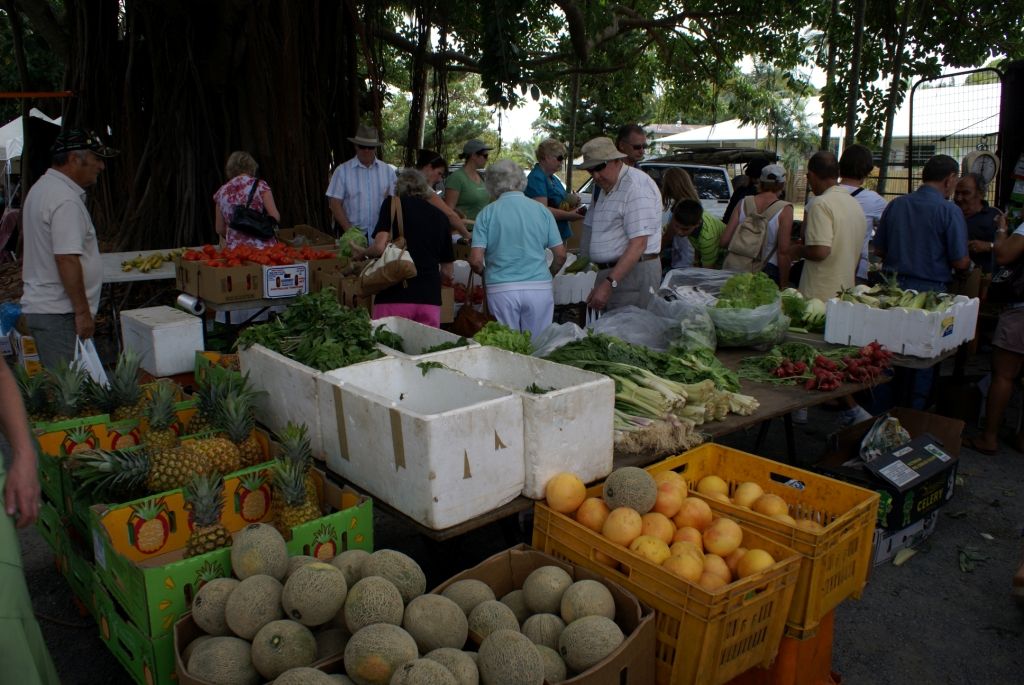 When I get bored waiting for Jill as she buys stuff - this time a very good local balm for hands feet etc ...I take pictures ...Something I just raise the camera up and shoot without looking through the lens to see what I get... Just for the fun of it




Some pictures you just have to take !! :O) Would that flasher look great in my veggie garden !! :O)



I bought a kangaroo leather ozzy hat ... You can fold it and pop it into a back (supplied) when not in use .... I like the ozzy hats as they keep the sun off well ...Though they can get a little hot in the summer when I switch to a straw one ....

The only way I want to get this close to a Croc .... He must have been a giant and quite old ....We were soon to get close to live ones in a river ...Another future story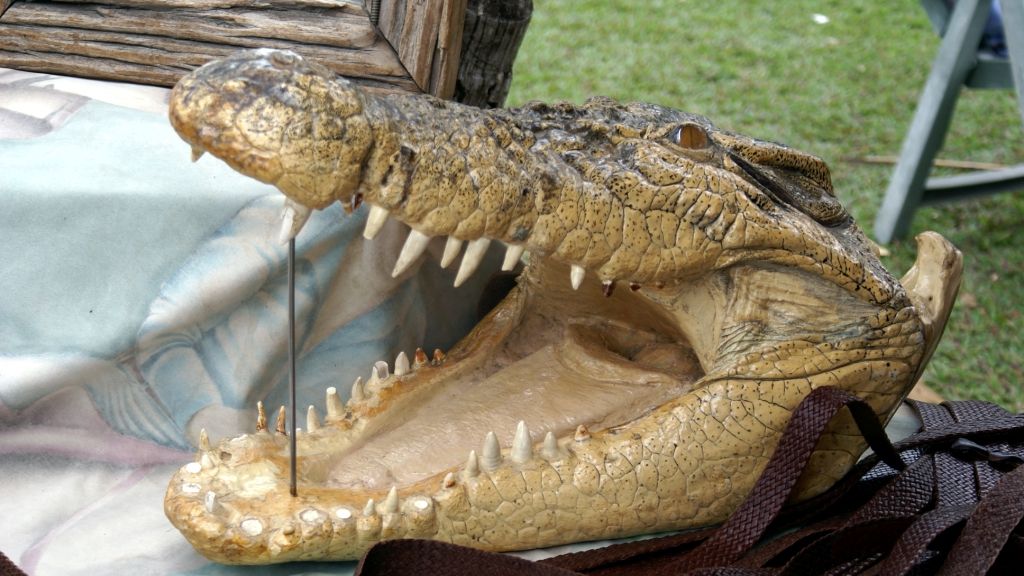 Aren't people fascinating at these places .... This chap had a bit of a go at me because I was photographing him .... Nothing major but I was dehydrated, hot and not in the mood for it ....

However - he was reciting some stories ...But not too legibly unfortunately ... We were told he lives rough in the park the market was on ....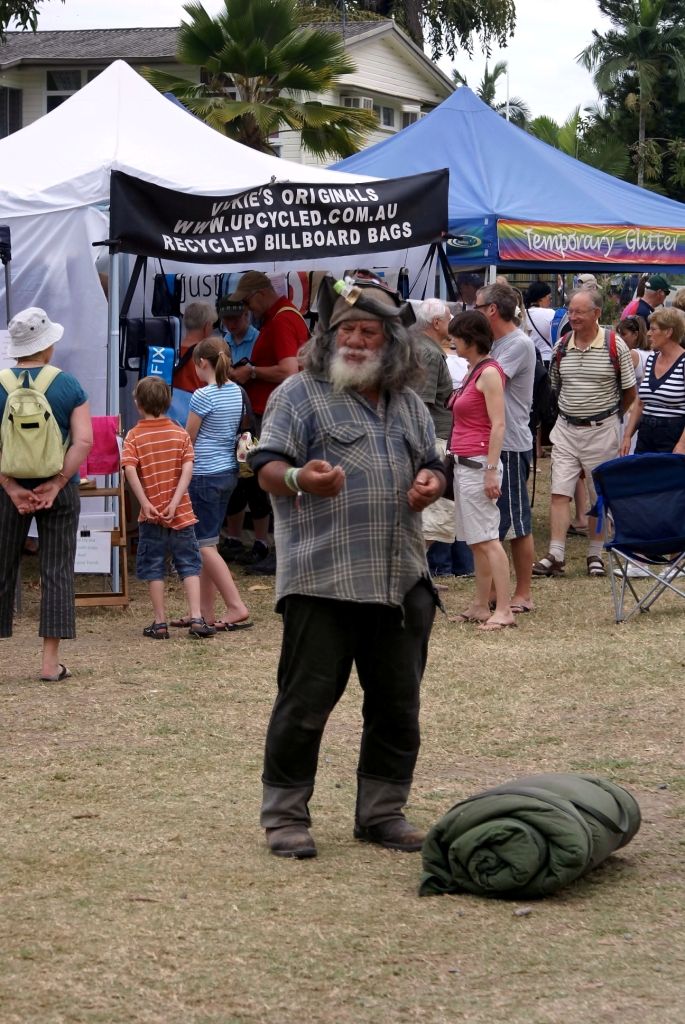 There were a few more pleasant surprises ... This chap was amazingly good ... He was also selling CDs of his music .... Some of which were old Australian ballads ...Stopped a small crowd in their tracks to listen to him ....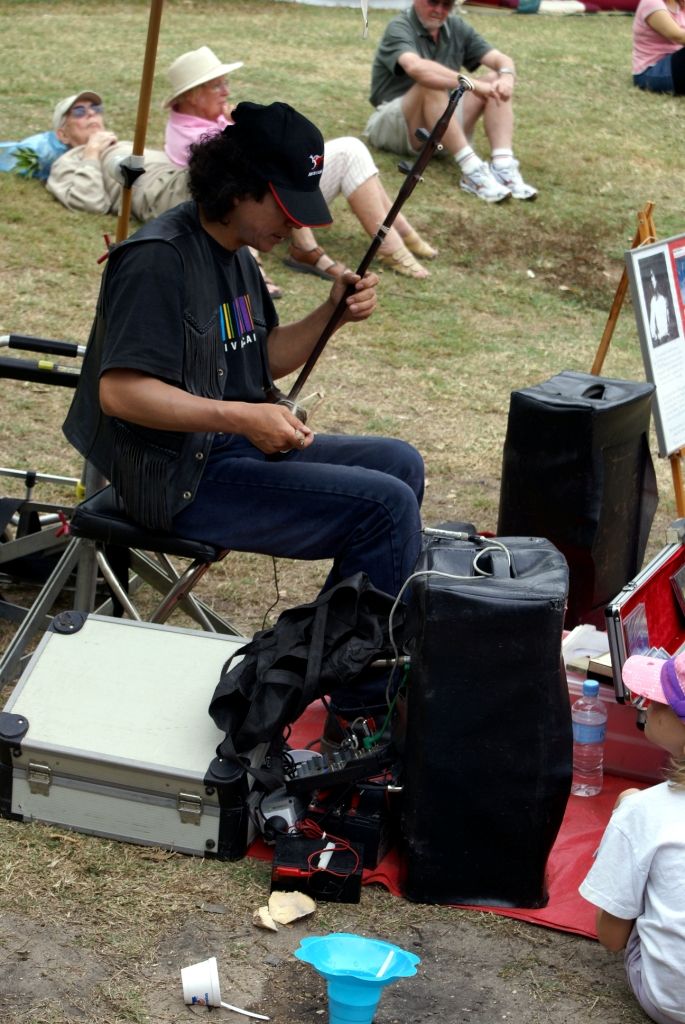 Fresh Coconut anyone ??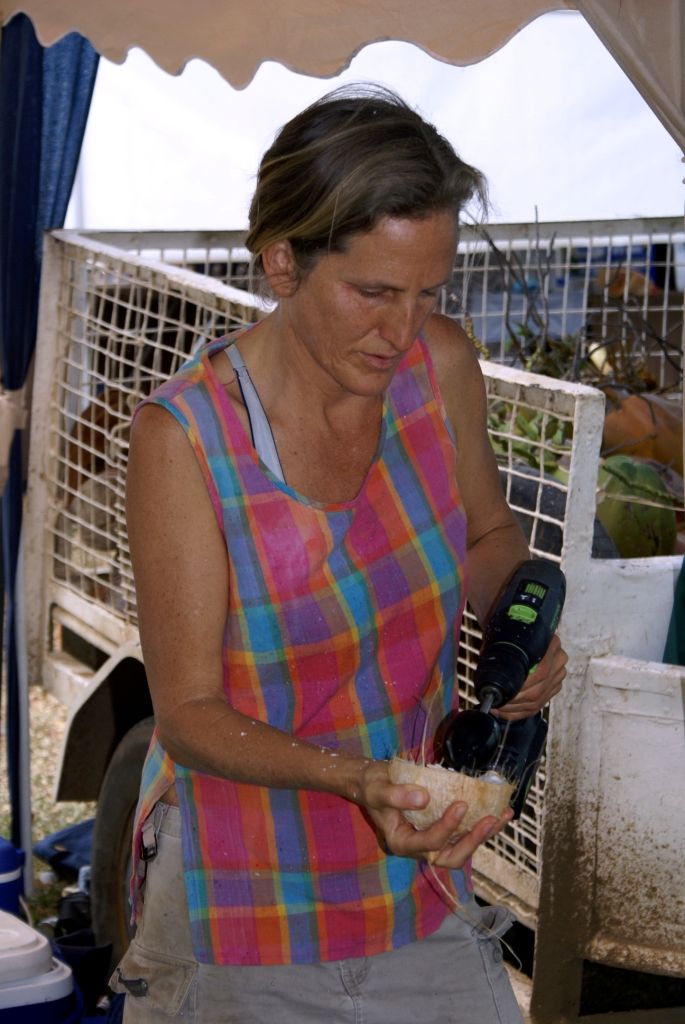 And then it was back to the marina. Now very hot and bothered. However we followed up on the 3rd sign we had seen ..."Fresh Cooked Tiger Prawns"!! Sold cooked straight off the boat. Jill did the honours buys a good sized bag of them ... We then went to the car (you have to have wet wipes after eating these) and sat on the back of the RAV and ate and ate ... YUM!!!!

Lunch was good that day people !! very good :O)






The sea was rough so no boat trips ... I saw the hired flat bottomed boats with fishing gear to fish the estuary ...The boats even had a BBQ attached to the back so you could eat the catch as it happened :O)
Next time ............:O)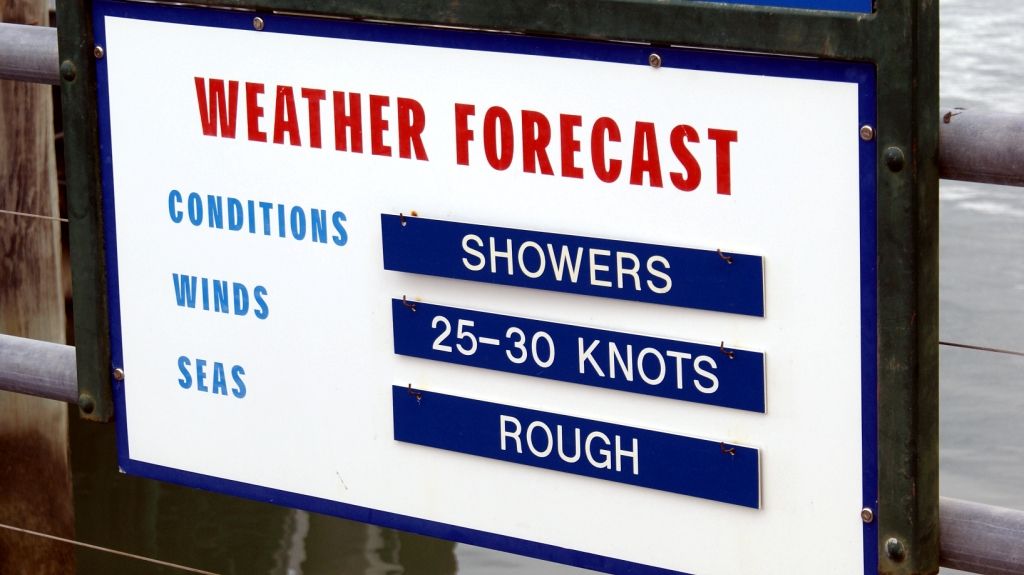 We finally finished walking about and decided to find the beach for a quick look and them meander back home ....

Another of my blurry insect pictures ... This time a monster of a wasp ...>HUGE !! ! He just wouldn't keep still ....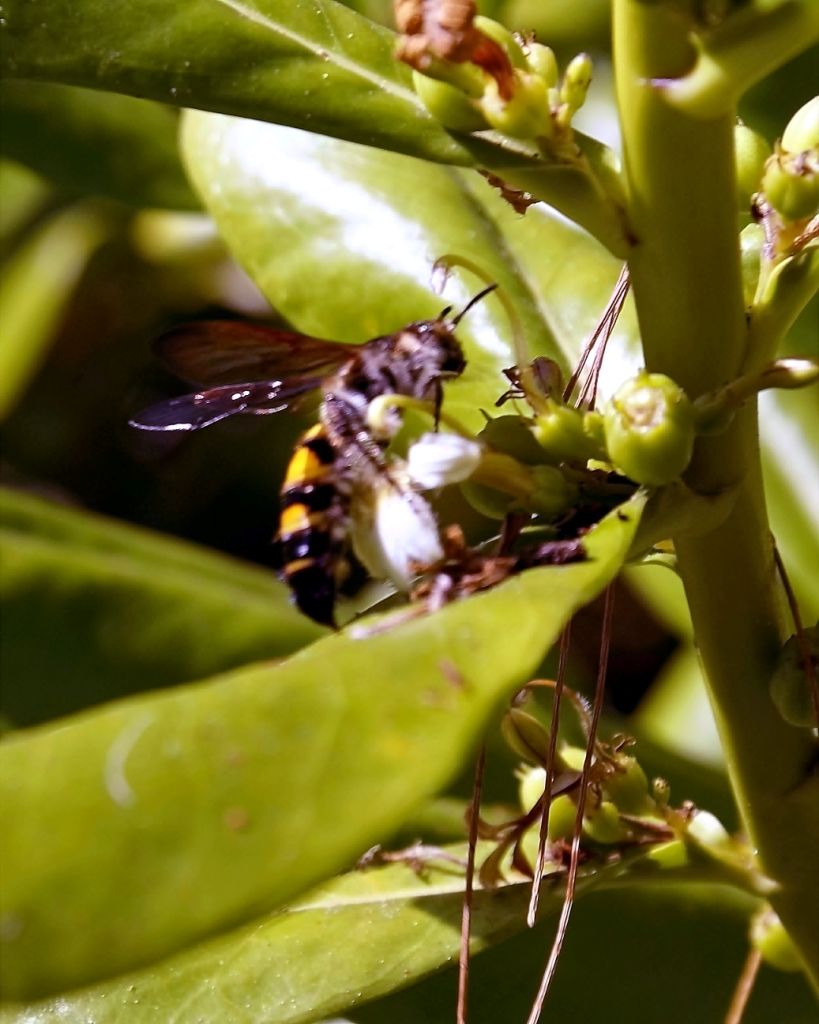 Nice Port Douglas beach Shot. Very pleasant The wind keeping the temperature's down



More Moving Car Photography - Sugar Cane Trains






Sugar Cane ..Not sure why the black band across them all - Fire perhaps ??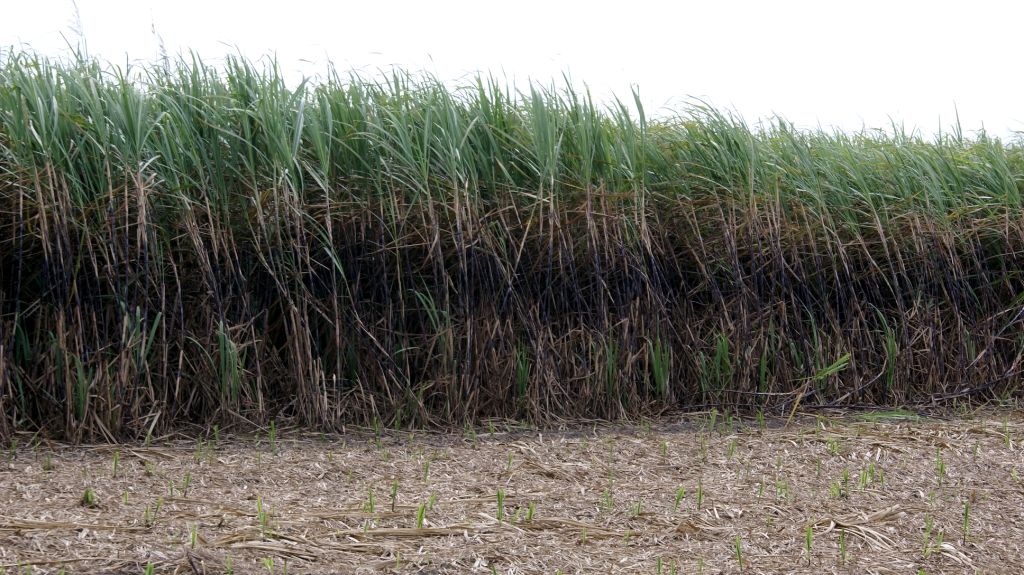 And finally an interesting palm tree .....