We decided to take a day trip to Queensland's Tablelands. Inland Queensland that took us into a very rural setting . But not all rural farmland as it boasts its own 'lake district' and a wealth of rainforest and wildlife.


To take a quote from another website
"You can enjoy barramundi and fresh water fishing, cruise and swim the lakes, historic steam train rides and birdwatching.
World heritage rainforests... mountains... rivers... lakes in extinct volcanos and magnificent waterfalls. All this is around an hour from the coast and about as far from where the outback starts.
That's just part of this benign and fertile plateau reaching up to 1000 metres above sea level. Primitive ferns hang from and around giant Kauri pines as they've done for hundreds of years. There's strangler figs with roots hanging more than 15 metres to the ground."




Taken from that great site



You could spend a whole holiday in this area which extends as far south as Innisfail and as far north as Port Douglas. We had a single day. Apart from the lakes there are walks and treks around lakes and to waterfalls and into the rainforest. Arts and crafts shops and galleries abound. Small farm type industries with wonderful names such as the "Humpy Nut World", Mt Uncle Distillery, and the "Mungalli Creek Bio-dynamic dairy (cheese tastings and tea house). Too much to cover in a day,. Especially when the bird and animal life was so different again . We decided not to do a mad drive through the area and try and see everything ... So we headed for the main township of the area, Atherton, check out the Tourist Information there (the Queensland Tourist Information shops are the best we've ever encountered... Friendly, informative, and very keen to help you get the most out of your journey).

And so up with the larks (or kookaburras :o) we headed south and over the mountain range known as the great dividing range. As we zig-zagged along with the winding road we were able to see out and across the plains of both sides to the range ... Again the weather wasn't good for the scenic shots ....

On the Tablelands the rainforest left us and a rural farming and more scrub bush land emerged. The land around Atherton is used to grow a variety of crops, including Sugar cane, Peanuts, mangoes, maize, potatoes, avocados and macadamia nuts. All this with dairy and beef cattle being farmed in the area.


Along the way we also saw a large number of termite mounds. I'd not seen them in so many numbers or so large. I might add that we were well abused by a passing truck driver when taking these pictures ....Mile after mile of roads straight as an arrow and he's upset at us parked on the roadside.... But I got the pictures :O)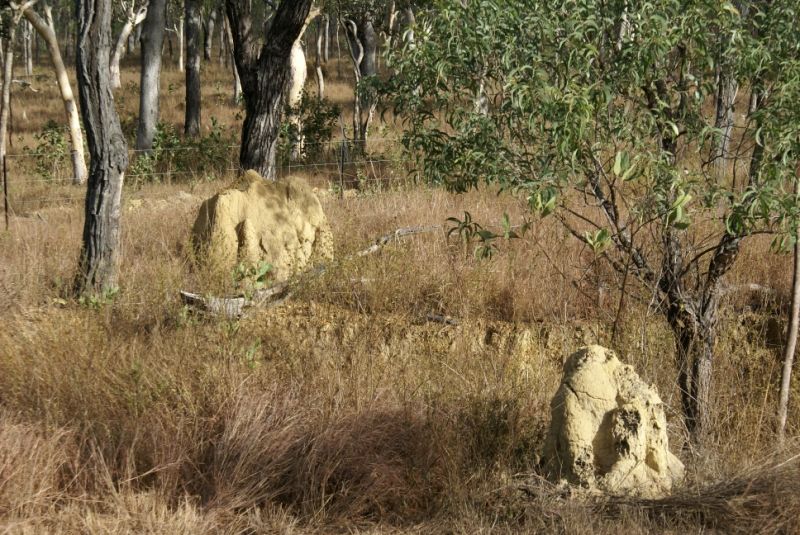 Of course you always encounter roadworks somewhere along the roads travelled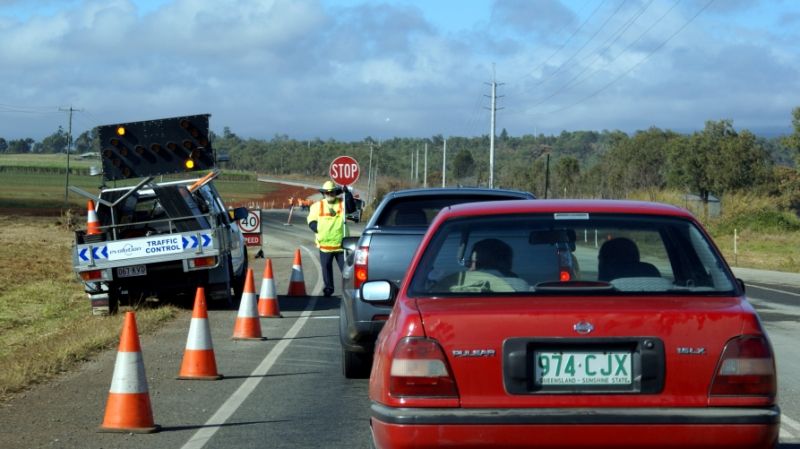 The construction going on revealing how red the soil is in parts of Australia










Here still were some sugar cane fields as well as the Banana plantations ... Each bunch of fruits wrapped inside a plastic bag .... I suspect to keep insects and Bird life off them .... Must be highly labour intensive to do










Various roadside stalls provided interest along the way ..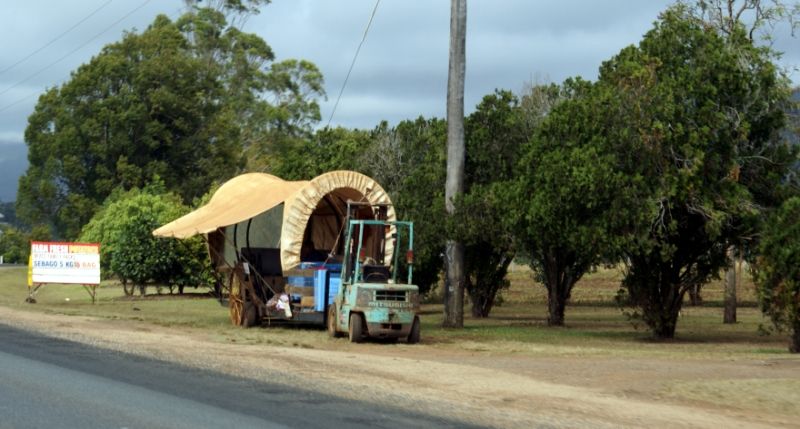 While the drive was long there was plenty to look at and if we'd had the time we could have stopped numerous times ...However the schedule was tight in that we wanted to be back at the Retreat by dark and so Atherton was to be the 1st real stop ... Atherton is a growing township likely to loose (or have lost ) a lot of its charm as it does so ... However there is still a good deal of the older Ozzie buildings of various styles in place ...











This wonderful building turned out to be the courthouse.








I had read about the "crystal Caves" shop in Atherton ... We stopped off to have a look. Crystals from around the world as well as locally were on display and/or for sale... What did catch our eye was a pile of unopened Geodes from South America ...geodes are basically round rocks that have various crystals inside of their hollow centres. You can read more on them here ...en.wikipedia.org/wiki/Geode

We decided to buy one and have it cracked open. We would be the first people ever to see the formation inside.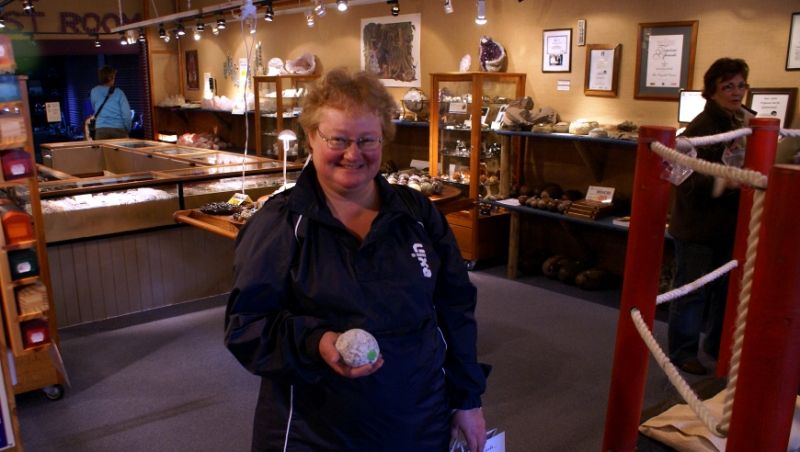 The shop has a large geode "stone cracker" in full view inside the shop. Having decided on a suitable sized piece of rock we were invited to do the 'cracking' of the rock ourselves ... As soon as we started to prepare a number of spectators formed around us










Safety specs were put onto McD who was to hold the two halves. what effectively was a large chain was wrapped around the rock and I was given the task of pulling on the lever until the rock broke .... With the warning to stop as soon as it does break .....










I pulled slowly downwards .. a couple of small cracks as the chain bit..I stopped immediately.... A louder 'crack' as I pulled harder down. I stopped immediately ....And then a real "CRACK" as the rock split neatly into two and into McDs waiting hands .....

We were given a talk on what was inside the two halves and then they were wrapped and given to us to bring home ....

Something to keep forever... A fond reminder of one of our travels together.

"When one of us dies we should bury one half with us " I suggested. "A connection between us even through death"....

Well - I'll leave McD to tell you about what that started !!! .......




Stay tuned for part 2 (and maybe 3) for tales of giant strangler fig trees, formation flying ducks and whip birds .... :O)