From about 10 degrees in Auckland, a 10 hour flight to 35 degrees in Brunei (plus the humidity), about 3 hours sleep in our wonderful hotel (42 inch TV - Oh yeh :O) and straight out with our guide ..First stop to visit the chinese stilt villiage over the water of the river eastury there...
Our boat was hand made from a tree trunk!! Large and reasonably stable but none the less hewn out of a log of wood with a sizeable propeller engine attached .... Getting on and off was a saga ... Dangerous really ..no hand rails ..VERY slippering steps and an 80lbs 40kg little chinese girl trying to steady me by holding my hand as I got on and off the boat ....I do biceps curls with more weight than that on one arm ..I'm 3 or 4 times her size ... Plus I have no balance ...My ear problem left me distinctly 'wobbly' at the best of times
"We are so going to die today ..." I mutter to McD as I finally make it to the bench seat on the boat ...
I seemed to use that phrase a few times that afternoon .....
There were more modern boats as well .... The eastury being quite a criss cross of boat traffic
On arriving we had to go through the same dangerous exercise in reverse this time back onto slippery steps cameras, bags etc in hand ..This time two 40kg chinese girls trying to ensure I do not take a plunge into the not so clean looking river ...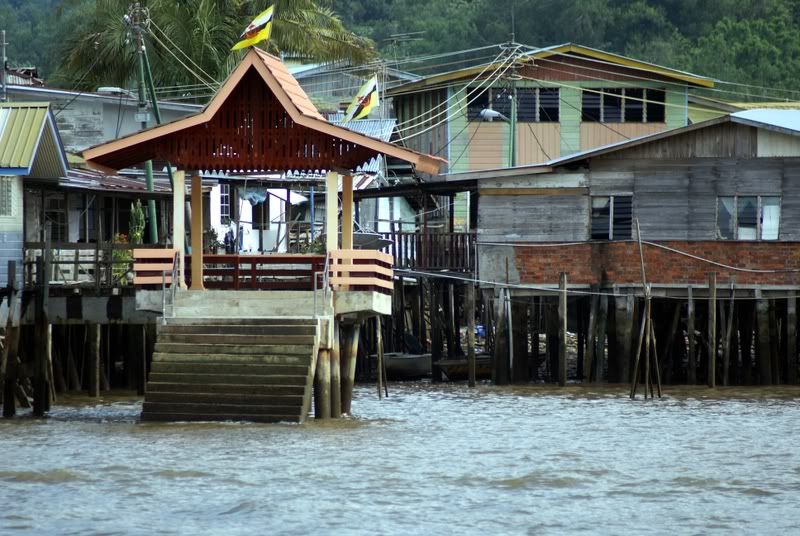 And then it got worse !! We are now on a walkway on stilts no handrail 12 high that wobbles ..Yes wobbles from side to side as i follow the girls ... It wasn't built for a 6foot 300lb Pom ...Oh no .. Plus in part the wood had rotted away so the walkway had holes in it in parts ...
"We are so going to die today ..." I mutter to McD as I finally make it to the wooden house we were to visit and (I hadn't known) to have tea and a selection of brunei local cake delicacies ...
Now when travelling I do try to be careful of eating only the safer foods and liquids... Shell fish - I don't think so....Dodgy water - stay well away ... Food from places you are not sure of ...Uh Uh ...
But when we find ourselves invited to someones house and offered food and beverage I wouldn't dream of insulting our guests in not at least trying the foods offered ... Fine if you then don't like it ...A bit of humour a funny face etc and the jokes on us the winter pale strangers ....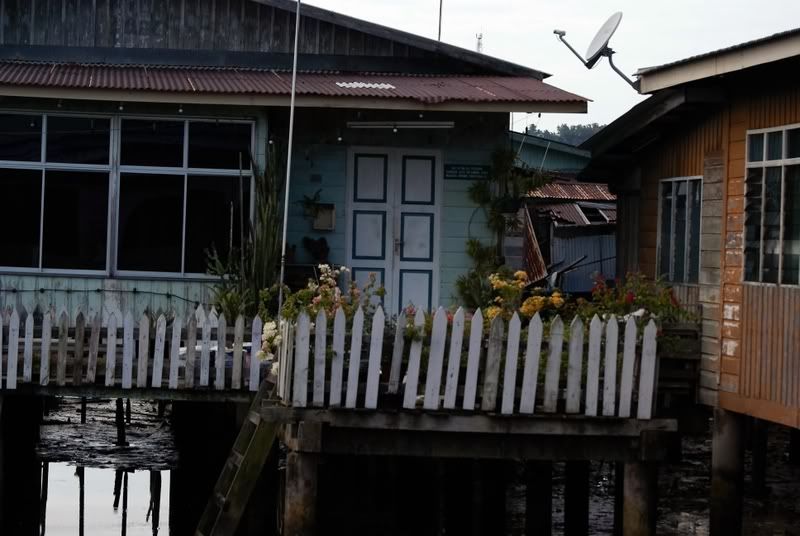 So after a glance to McD who understood my thoughts of "We are so going to die today ..." I pick up the luke warm sweet tea ..
"It's safe water" the guide tells us ..The Sultan has fresh water pumped over to them.. God bless the Sultan I'm thinking ... The tea was unusual ...Sweeter than syrup... but very nice and refreshing ..... Our guests speaking no English beamed as we drank it and I nodded to the man of the house .....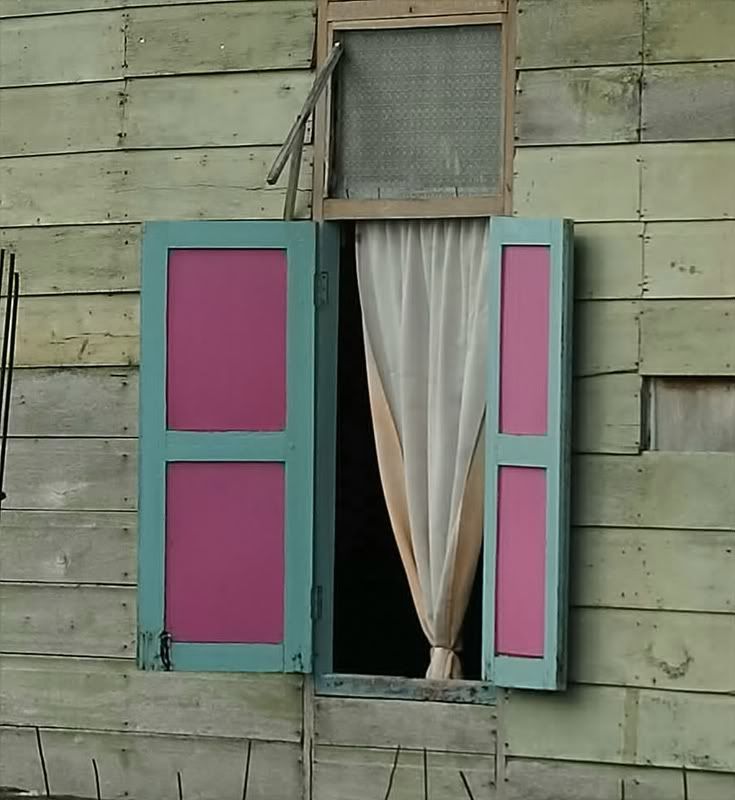 The cakes were a real assortment ...Some I had had in Bali...little round dumpling filled with palm sugar, little aquares of spongecake that wasn't sweet as I thought it would have been .. Prawn crackers. "They are home made" the guide tells us "They dry it all on the roof tops ...Shrimps etc" .. (Uncovered I was to find out a little later...
"Yum" I say crunching into them ...
There were about 6 diffent cakes - one was like a coconut macaroon. At the end of the tasting, of which we liked them all, we were asked if we wanted to take some away with us ... "just two from each perhaps ". I said not really sure what the custom was in these circumstances... we were given a little bag of cakes to take away.
Handshakes and smile and nods all round with the man of the house. The guide told us that many visitors refuse outright to eat the food. While they get paid for doing it, the lady of the house made the food herself and they all went to great trouble to look after the guests. The food was fine and clean and safe... It was a great introduction to our newly discovered Brunei and its people of the stilt villiage.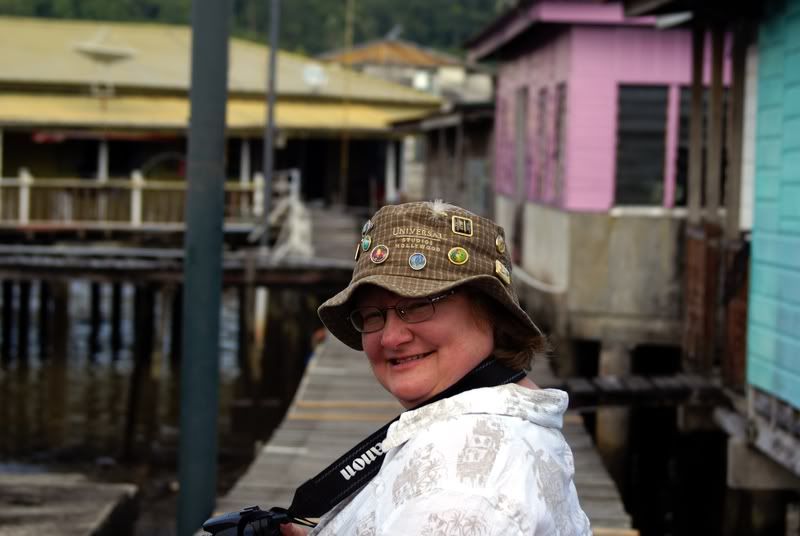 McD tried to Blend in with the locals by wearing her around the world "photography hat" A pin badge as a momento of where we have travelled....
The Sultan tried to move the people a few years back ..Offered them new housing on land ..Dispite the dangers and the dangers of fire (there had been one a few week previously) The residents refused.. this was their home ....
We were told we could walk around the villiage and take pictures ....Well we don't need telling twice about that :O)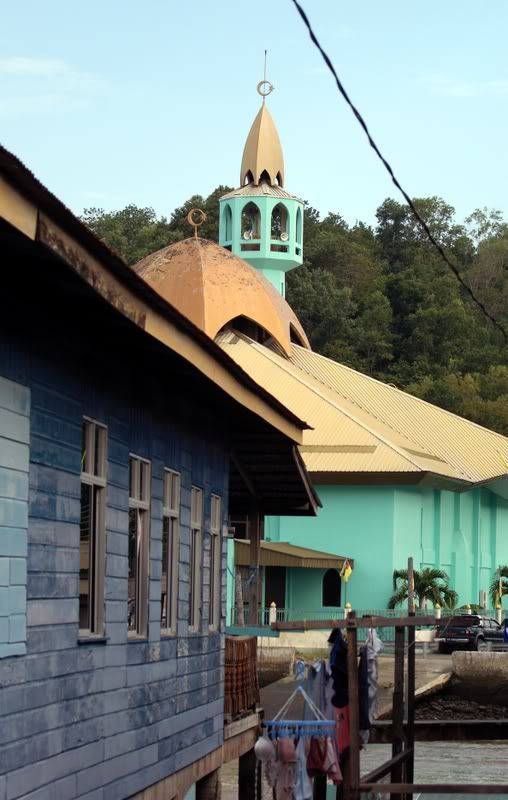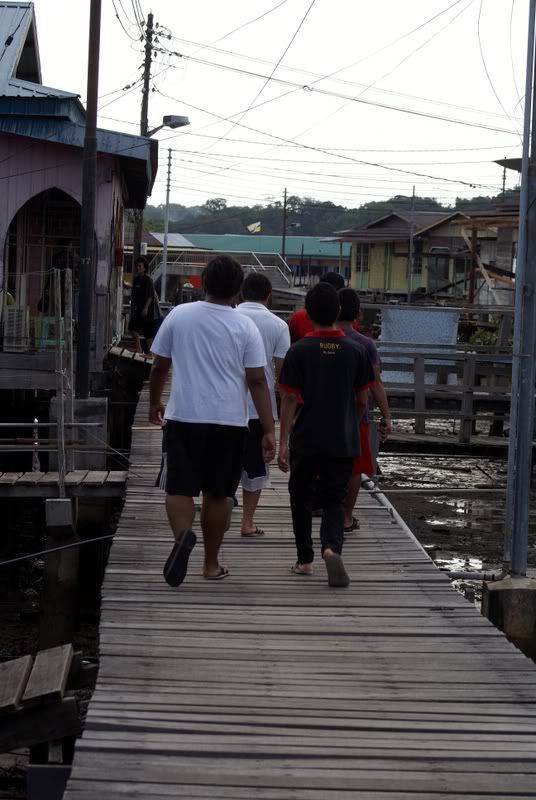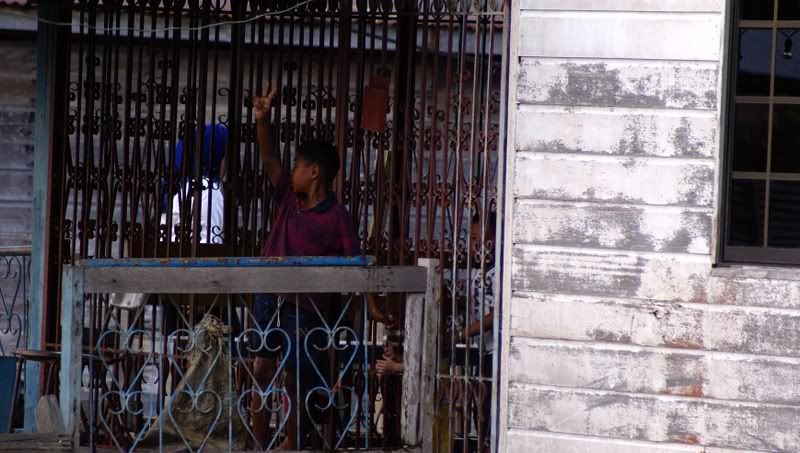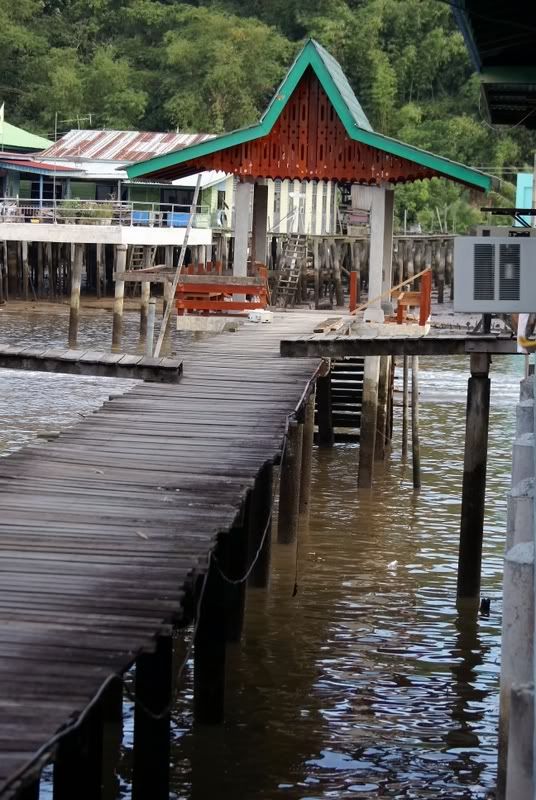 At the end of the walk and photo session we came across these small golden headed fish in the brown river water....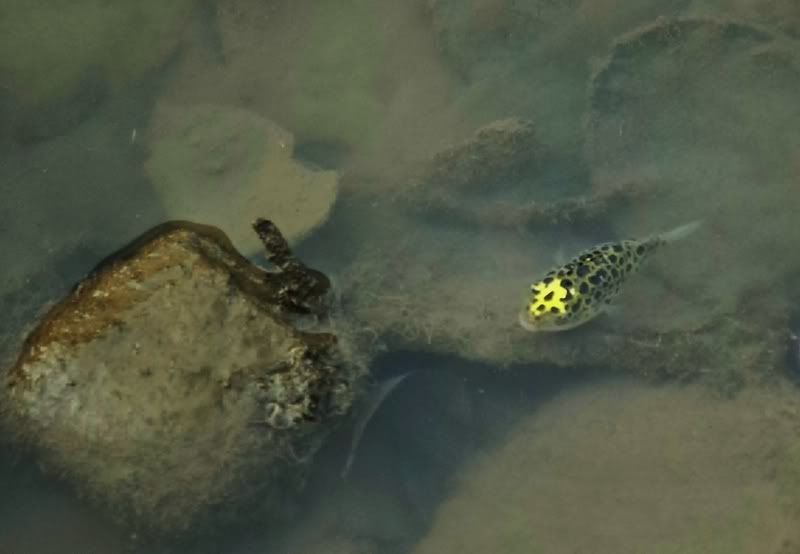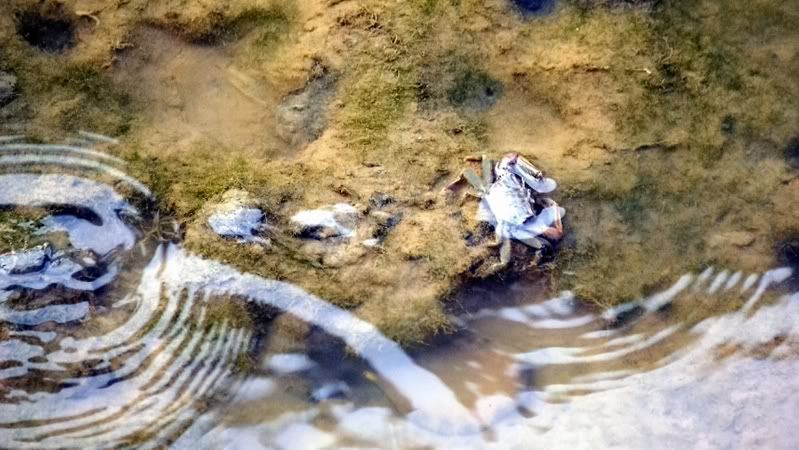 Back onto the boat ....More stress but then once settled we were told the next thing was the journey up the river into the jungle to see if we could get close to the Proboscis monkeys that frequent there ....
Not my Picture