After the river trip, as nightime fell, our guide gave us the option of where we would like to eat ...A 'safe" Thai restaurant or would we like to eat local food ??
So there we were sat in the middle of a number of street style outdoor cafe's awaiting our guides selection of food items frm a number of diffeent places ..Each cafe had it's own version of a BBQ right outside on the pavement. The air thick with the smells of food and smoke ..... The table was on the river bank and we could watch as the stilts villiage lit up and the sun set over the river where we had travelled a shot time before.... The guides set us up nicely and dispite our offer, ate at a different table .... I think they thought McD and I should have a romantic dinner alone :O)
Except the food just kept arriving satays , then rice in banana palm, then a fish dish they wouldn't tell us what the fish was called but I knew it as being sting or manta ray wings , BBQ'd Chicken wings, a delicious noodle soup, and the main attraction for the chinese guide anyway - Clams (cockles) BBQ 'd... Shell fish ... Love them .. But shell fish from the mouth of this river ???? Oh boy ...... Though we did eat a few and delicious they were but we left most of them . The food overall was delicious ...Especially the satays ..Two plates of beef and chicken satays and dipping sauce ..Yum .. Almost as good as the ones in Bali Arbi :O)
At the end of the meal the guide asked about the clams and we had to say unfortunately they came a little late and we were full .... We offered them to the guide and she took them home in a doggy bag ...
And off we went again to the night market. A permenant market open only in the evening, it was a busselling and vibrant place ...A great atmosphere AND if I had just remembered to bring my mono-pod or tripod with me We would have had some great pictures ...............
I've added a few of the better ones ...But very dissappointing for me not to have gotten better shots .....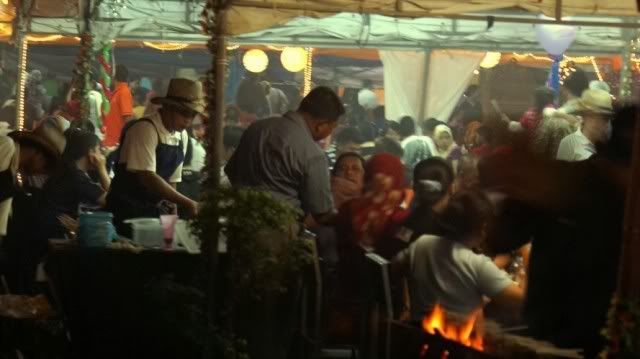 A few more pictures in the next entry ....