Everything geared up to being ready for the Xmas period in the Vegie garden. Some vegetables peaked too early and of course we ate them early....and very tasty they were too... such as the broccoli and the cellery ....
And then a small selection of others such as the peas that came and went in the blink of an eye .... They didn't take to the heat of the day up there ... Will replant them in the autumn.
I have to say the food we've grown has been fantastic ... Worth all the effort we went through in clearing the patch of land, building the raised borders and humping bucket load after bucket load of soil up the hill to fill the borders .. We've also been lucky. After the lingering winter, spring and early summer have been warm and sunny ..And with fairly regular rainfall all the garden plants have been growing happily and rapidly ....
Highlight crops have been.....
The strawberries - planted only a few months back they are producing large and beautifully flavoured strawbs. We've had bowl ful after bowlful with McD well and truely telling Stepdaughter and me off for bringing bought ones into the home as a 'just in case' over the xmas days ....


Mcd Showing the difference between bought strawbs after 1 day and the garden freesh ones ... Doesn't show too well but the ones in the plastic are already shrivelling up and tastless....
Garden fresh strawbs
Good enough to eat says McD ..... :O)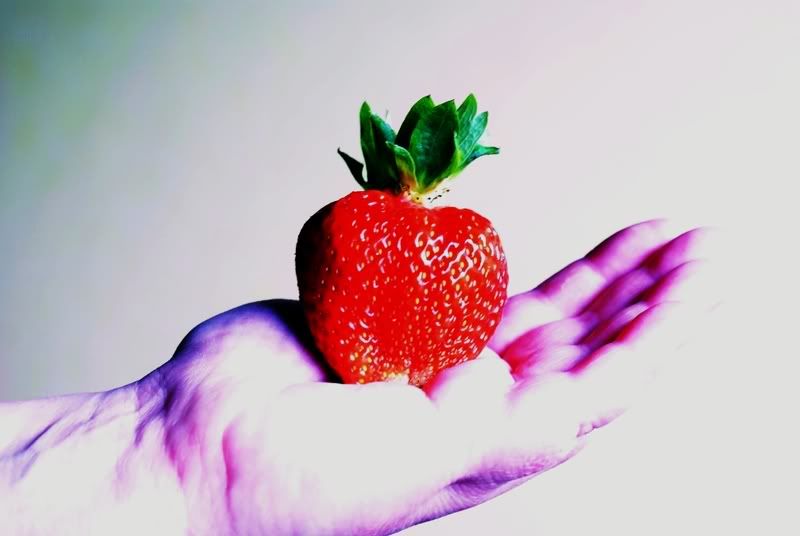 Our biggest strawb to date .... Next year I'll see if I can buy some old fashioned ones to top up the plants we have .
Next came the Broad beans ... I'd grown 2-3 varieties of NZ Heirloom Broad Bean (Fava) ... I worried over them when they took longer to sprout than I had expected... I worried over them at about 6 inches to a foot at the colour of the leaves not being green enough... I worried over them when they started to flower as no bees came to polinate and the 1st flowers fell off .... But then a single bumble bee found them ...and It seemed that one bumble bee visited every flower from then on as we only ever saw a single bee on them at any time ... Bless her....
The first bach we picked caught me by surprise as to how good they were, without bitterness and full of flavour flavour... I steamed them with some home grown egyption onions and a homegrown garlic sliced and diced and some pepper and a knob of real butter once cooked ... Delicious ...we've had them on Xmas Day and again today with our dinner as M-in-L is now with us .... McD and I made a Rabbit, turkey and ham pie using our own egyptian onions again (we'll never store any ) and some baby red, orange and white carrots we are growing ....
We do like the red carrots .. Picked a selection of baby carrots today - a little small still but very nice in the pie ..McD even ate them and liked tehm ...She's not a fan of cooked carrot.....
Beetroot - we have 4 varieties ..The red bulls blood, The white Albino, The burpees golden and the Chioggia that when cut open has rings of red and white through it like a target .......
The radishes are monsters (the black root in the picture) Another heirloom a huge leafed plant that took over neighbouring squares in my square foot gardening technique I follow.... A strong flavour, perhaps too strong for our liking ...Will go back to the usual reds next time ....
M-in-L " we're going to eat them !!!!"
The Egyptian onions are nice ... a little larger than a shallotte good flavour, a little pungent like garlic ... They produce bulblettes on top of stems that can be planted to continue their growiing ....
Having Fun with Vegetables
Courgettes !! or zuccinis if you prefer .... Anyway - the picture below, apart from showing how not to treat your courgettes :O) , also highlights the fact that what I thought and bought were courgettes were in fact some rampant type of marrow ...again in a square foot gardening raised border they are taking over ... if picked as soon as they flower they can be eaten and used as a courgette..and very tasty too.. But turn your back on them for a day and thats what you get as in the picture below ...... !! McD pointed out that one female flower is in fact a 'double' sport... I'll leave that one to see how big it gets I think .....
Now just what are these two laughing at ???? ;o}
Anyway - the marrow became a much loved vegetable during my photoshoot !!!
Not seeing those beans being shucked in a hurry ......
Dustbin Potatoes
The potatoes we threw into tall plastic dustbins didn't do so well this year ... We have gotten a few meals out of them but the harvest wasn't great. We grew some Jersey Benne potatoes - Does anyone outside of New Zeland grow this wonderful spud ??? They are a truely wonderful early potato..I just wish I could grow them in abundence.....We also grew something we have no idea what they were..Labelled wrong I suspect when I bought them ...We'll try them in a meal tomorrow... AND then of course the purple Maori potato .. Small (picked too early me thinks), but with a nice flavour ...a bit like a cross between a sweet potato and a commoner garden potato variety.. I think they would be better roasted like yams though beside a roast leg of lamb .....
Wondering just what these are .... M-in-L laughing as much that I'm photgraphing them all .....Convinced that her youngest daughter is shacked up with a "mad Pom" such episodes confirm to her that the dinzie household is a strange household ....... But there again She's the one that sent me blue frilly knickers as a xmas prezzie !! (see previous entry :O)
And just in case you think thats all we grow in the Dinzie garden ... This is what we've been working on the past day or so ...
square foot gardening, vegetable garden, Garden vegetable, New Zealand, potager garden, allotment, gardening,

Right - Thats shallot :O)