First our bad/sad news .. We have a Dinzie very unwell ...(Dinzie is the collective nickname we have for our household, pets included.) Cola the fat beagle (not at all fat anymore) took ill at the beginning of the week with an upset stomach ...She got progressively worse over the next day and so Wednesday morning we took her to the vet before work ...
The vet decided to keep her in and put her on a drip. Test were done and scans taken to find she has a very bad kidney infection.. First thoughts were it may have been cancer.... We expected the worst ....
My poor McD was very upset and many tears were shed on the journey home from work as we passed the vets without stopping ... When McD isn't happy you'd better bet on me being worse and god help anyone if they've caused it.. But this time I couldn't do anything ...
It's been a very bad week ...
Short story is Cola is still at the vets ... Still not well, but the vet said she was better this morning and wagging her tail to all visitors ( who then prod and poke and stick needles in to her for blood samples) ...
She's a very old girl at 15 years. We are hoping she will be coming home at the weekend. But the vet has said that due to her other illness her imune system isn't working as well as it should..
But hopefully McD will get the weekend to fuss and cuddle her and we'll take it from there..
-------------------------------------------------------------------------------------------------------------------------------------------------------
Lantau Island - Hong Kong
Lantau is a different island from when we first visited about 8 years ago. Since then they built a new airport on reclaimed land beside the island... Hong Kong Disneyland has been built on the island (we didn't go) .. And a huge gondala was built .........
I'm not good with heights..Dangling off the sides of cliffs etc leaves me a mess really (But I've done it a few times ) ..Hanging off a wire in a gondola does pretty much the same thing really ... But I've had a few rides on gondola's .They are a popular thing in NZ ...Worse for being small and having the feeling of being built with No8 wire .....
Our visit to Lantau island (after the metro train ride ) was to get onto a gondola wit ha couple of very nice Chinese mainland holiday makers and spend 20 minutes or so wishing I hadn't ...However the trip to Lantau was one of extremes as we travelled to the opposite side of the island to a villiage there ... AND our first real near death experience (s) for this trip of the holiday.
The Gondola
We were lucky. As said just the 4 of us in the carriage ... Can hold up to 11 people with a number standing ..!!!!!!!!!! WTF !!!!!!!!!!!!!!!!
Anyway - apart from the fact there had been a recorded "loss" of a carriage during testing, it all looked very efficient and new ... Which it was of course ...
Once in the carriage (and it keeps moving when you get in) within a few seconds you are well and truely airbound ...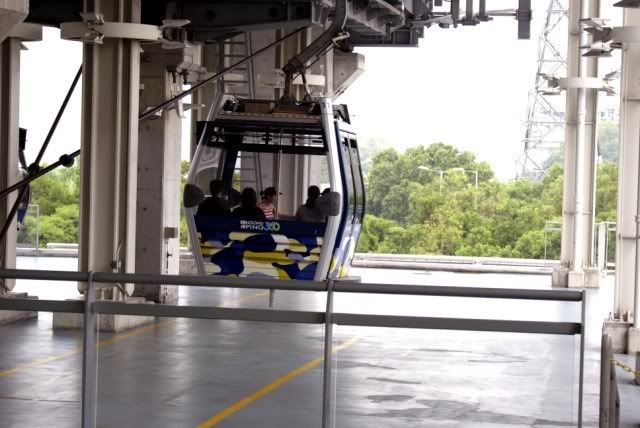 The climb upwards is steep ... We can now see we will be climbing for a while yet ... Actually all the way.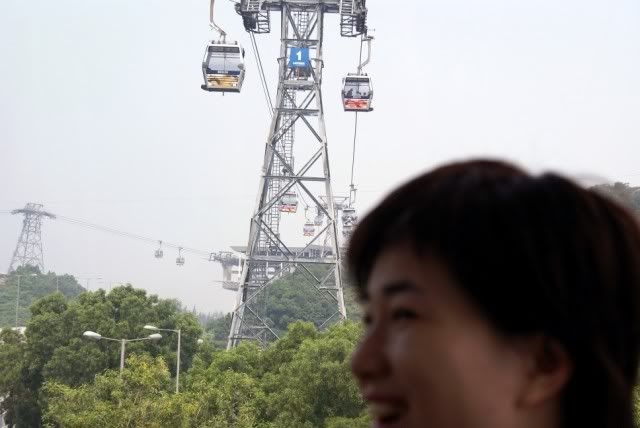 The photos are through the tinted glass. As we climb we then pass over a harbour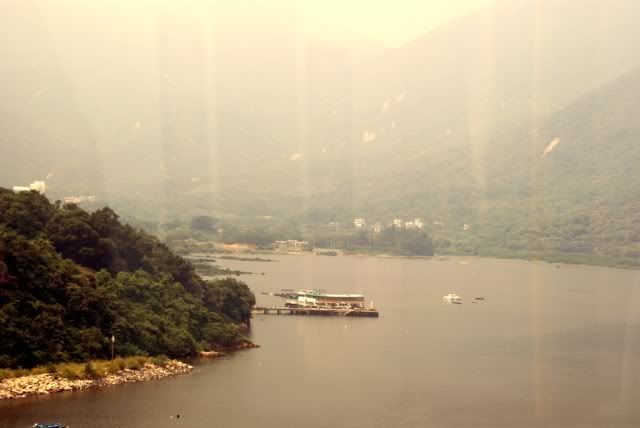 McD enjoys the rides ... As she casually leans back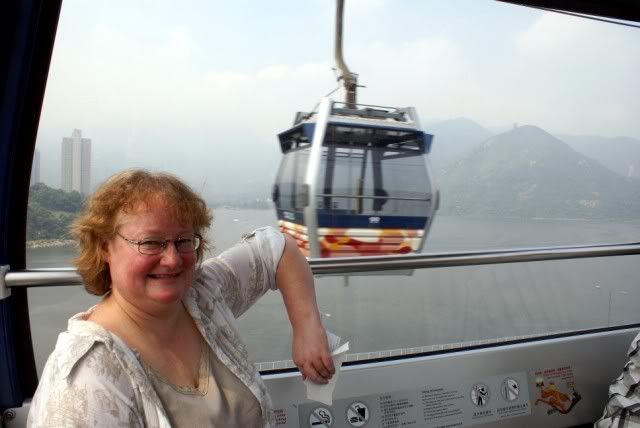 We've heading over more water and to the top of those hills .........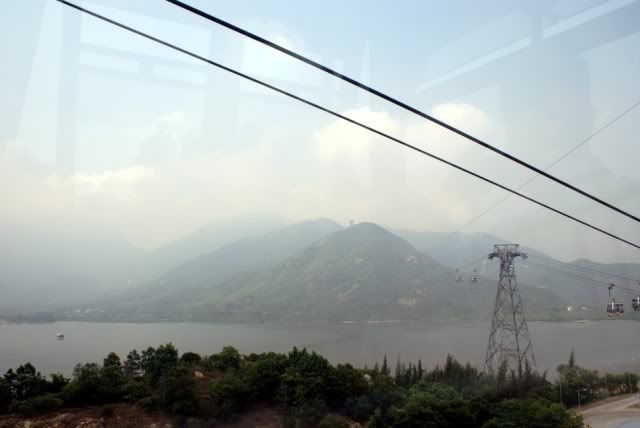 Something else I won't be doing ... Living in flats like these ... .Especially at the top .... This was the day before a typoon passed by ... I can only wonder what that is like at the top of these ..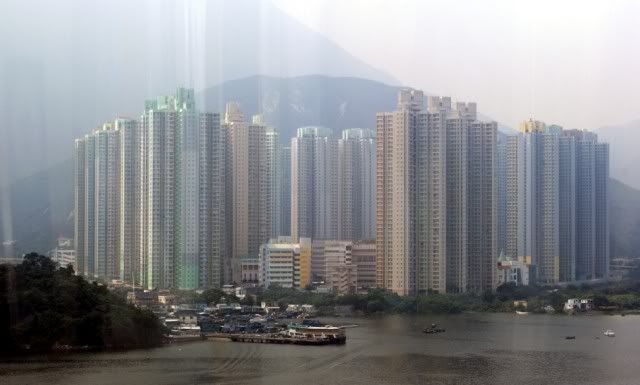 Still travelling - It was about here McD offered to take photos of the chinese girl and her Father(?)
The new Hong Kong airport.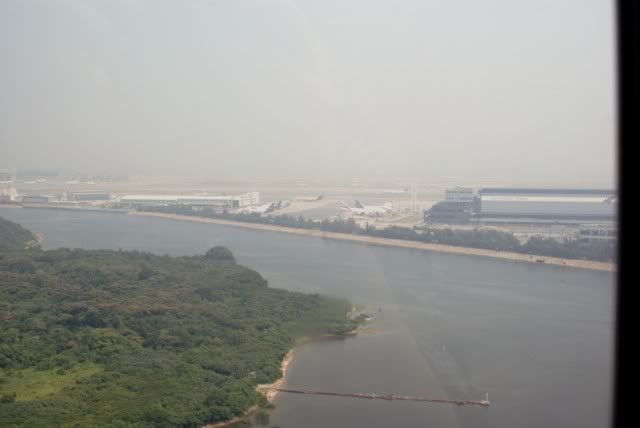 IT WAS THIS HIGH !!! In fact it got higher ....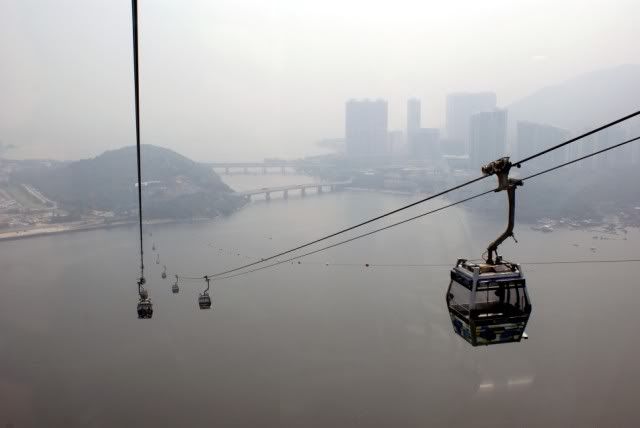 Finally over land...I didn't feel any better for it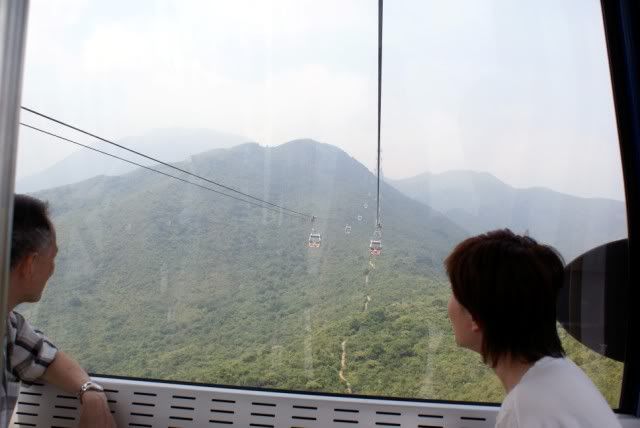 There is a stepped walkway below it !!!! Are these people mad !!!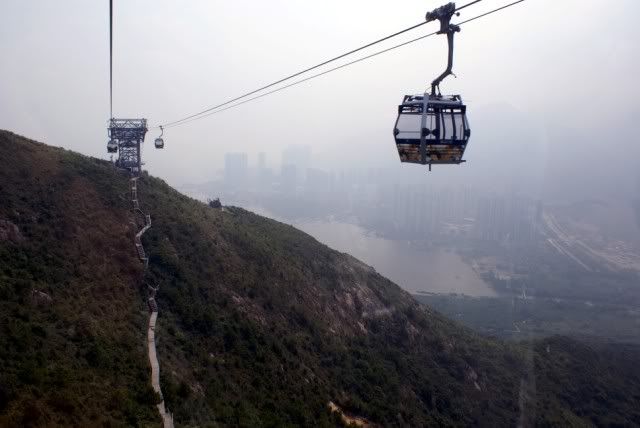 All that to finally see the statue of the Buddha ...

When we first saw this staue it was a gold colour ... Sadly no more but still impressive
We made it safe and sound ...... .Ask McDinzie what that red thing is she bought at the shop at the end of the gondola ride and the story behind it !!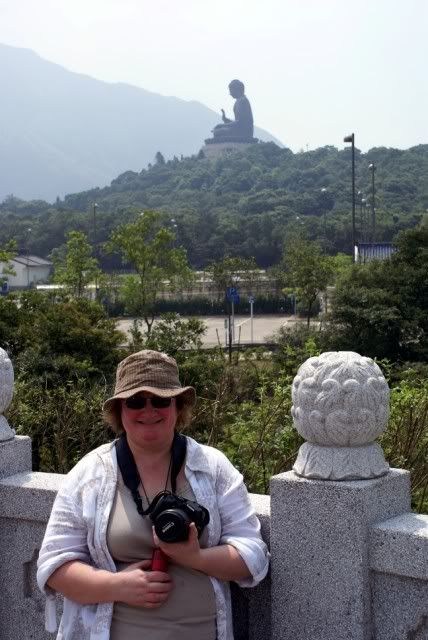 This is a whole new touristy shopping villiage that has sprung up as a result of the godola ride ...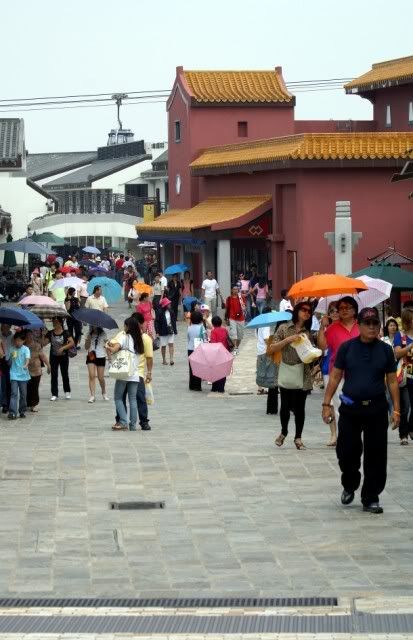 Buddha dominates the view