I think I'll get the boring stuff out of the way and then concentrate on the where we went and how we nearly died at least twice whilst on our HK adventures ....
1) about a day into Hong Kong I managed to strain my back while getting out of a chair ..... PAIN !!!! }:o( A nightly application of Chinese tiger balm patches and hot showers allowed me mobility ... But BACK PAIN SUCKS PEOPLE - BIG TIME >.....
2) Then ontop of that, about 2 days into HK and I got the "Travel Belly Trots" ......... That Takes up a lot of Lavatory Time I can tell you ... EVEN THOUGH We had a range of tablets depending on severity of the TBTs from the travel doctor prior to leaving New Zealand ....... But again at least they allowed me to travel in relative comfort .....
Ok back to the fun stuff ...
From the Airport which is now on Lantau Island beside HK Disney land (we didn't go) there is a wonderful high speed train into Hong Kong proper..from there to the hotel was a short taxi ride ... Easy ... Compared to what we have in NZ this train system made us look like the flintstones....By the trian left the station it had broke the NZ speed record for trains ...And no I'm not joking .....
The Hotel was fairly central in kowloon. Lovely 2 roomed suite and - Wait for it - 2!! YES 2!! 42" wall mounted TVs one in each room ... one room a lounge area with TV (of course) and the other a bedroom ..Nice large KS bed and yes - a TV :O) .........
1st day and out we go before the heat builds up too much ... It was always in the 30-35C range except one day when it dropped to only 28C Brrr :O)
Our first trip was over to Hong Kong Island ...here streets specialise in certain wares ... One street was seefood ...Another Chinese herbalists .... Another sold Antiques(Replicas mostly).. Very interesting place ... However we had arrived to early and many of the shops were either closed or just opening .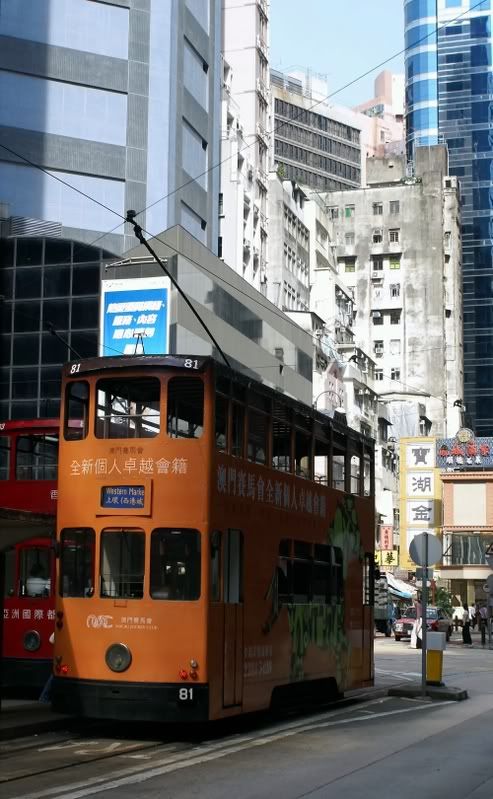 This interesting building was a market but now housed the ventilation for the underground .....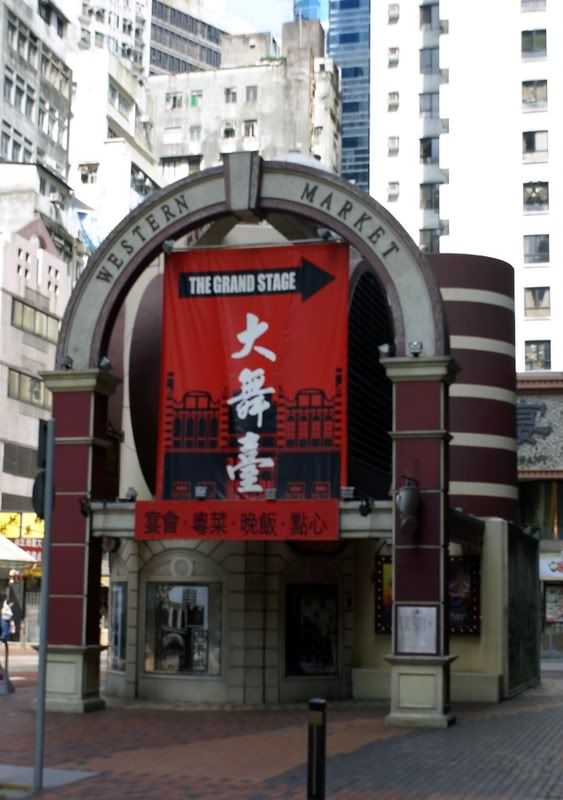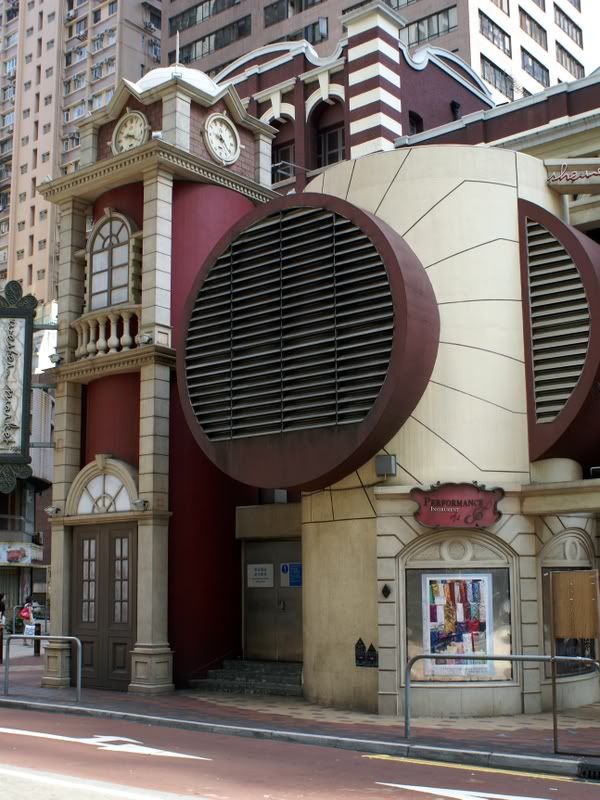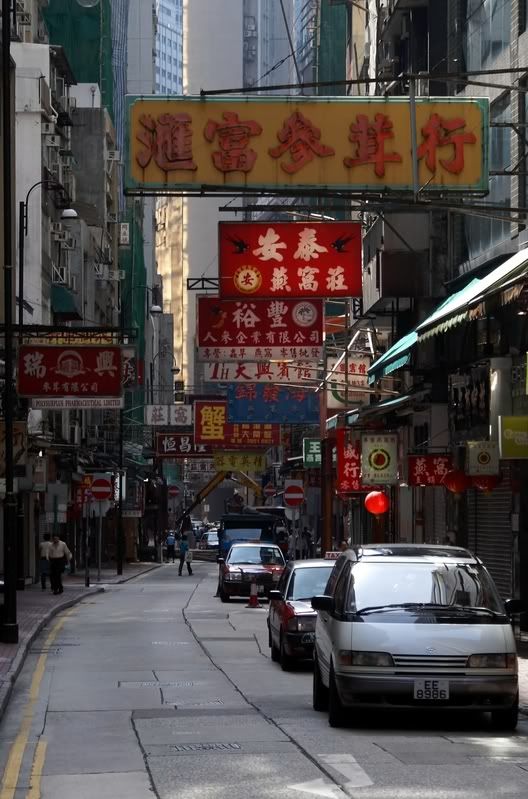 A Chinese herbalists ... Selling a huge amount of Ginseng
Self explanatory .. We did get the opportunity to have birdsnest soup ... But didn't .. Continued stealing of the nests are putting the swifts populations into sharp decline ...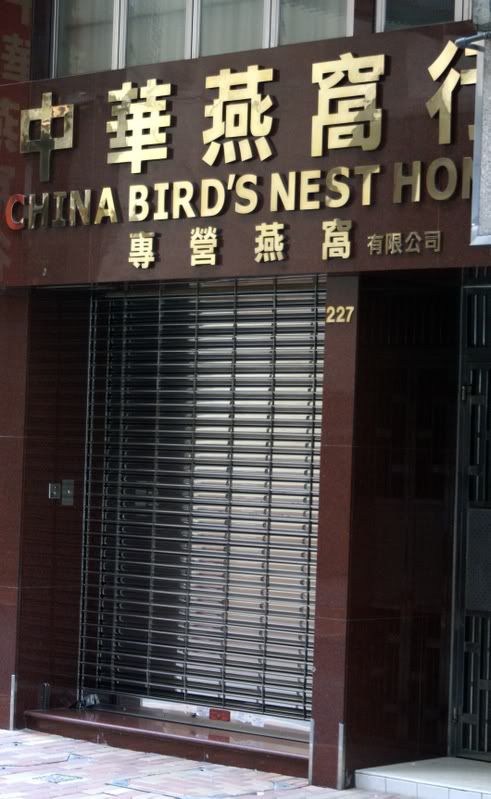 1/2 the goods we couldn't identify .... Some we were glad we couldn't ....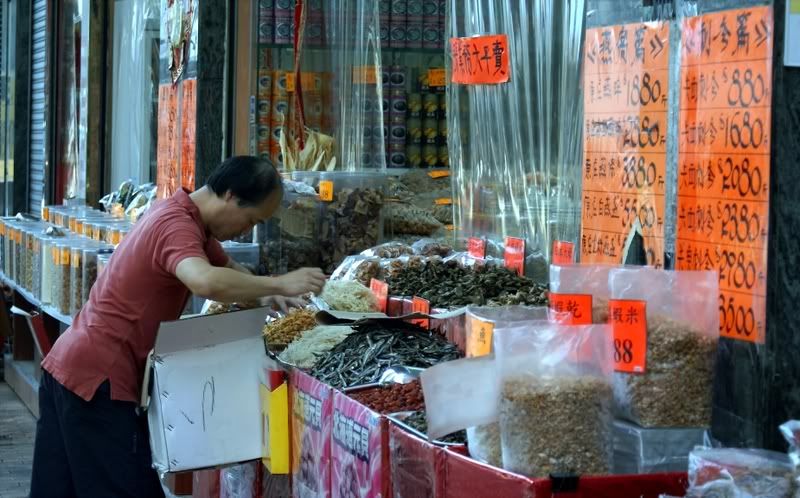 Shrimps , Sprats , fungi ..... Note the Sharks fin in the Window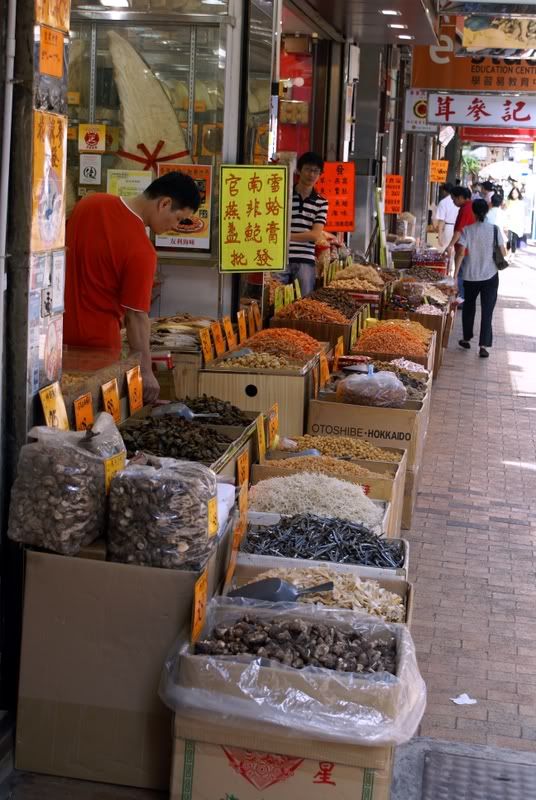 Squid in abundance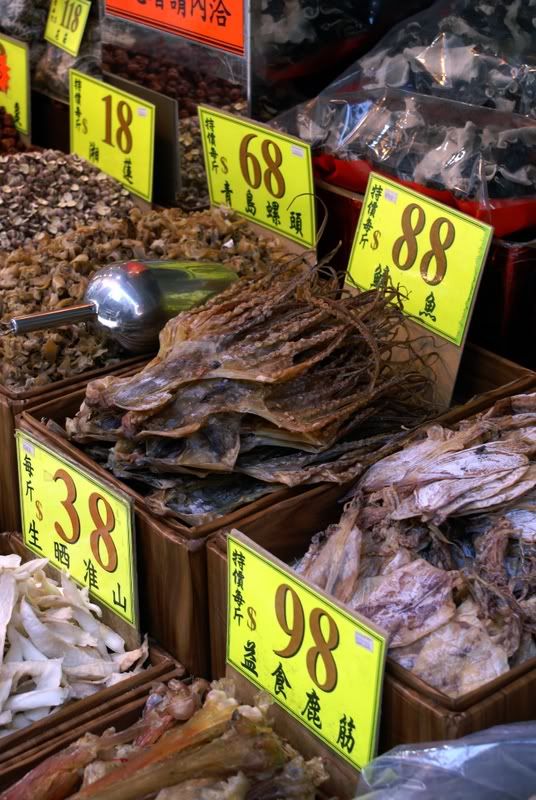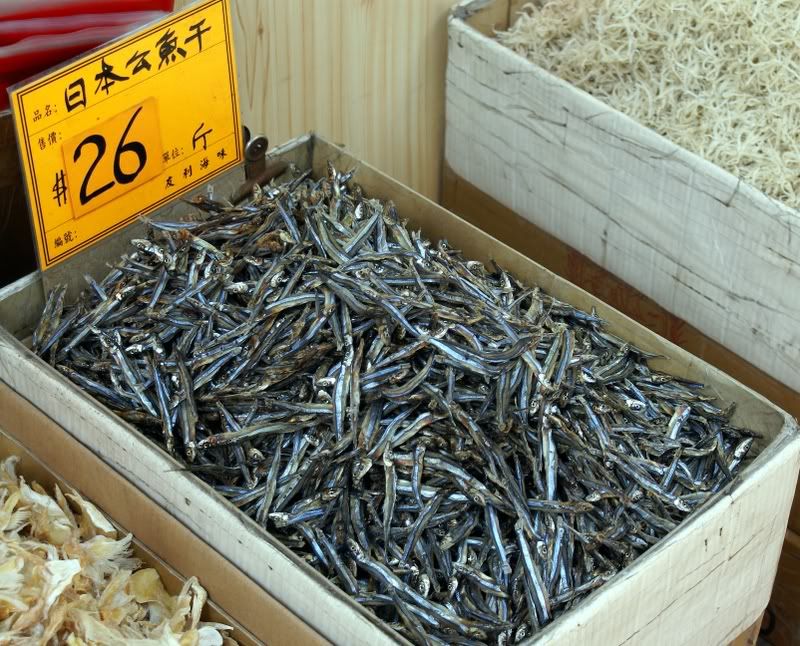 As we left the streets and headed for the antiques area and the Main temple (Ma Po) we found this little spot under trees ..... Pictures at the back told us what the flowers and plants were in the area ..... Unfortunately the peacefulness was distrupted by a very loud Siren going off nearby ... Didn't seem to be a problem for this chap though ...